---
Aidan Casserly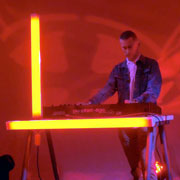 One of the original electro-pop forerunners of the turn of the latest century, Aidan Casserly is bigger and taller than ever before, Over the years, he has brought his vocal, production, and songwriting skills to various bands including his Empire State Human, The Garland Cult, and his most recent undertaking The Wazp. Recent collaborations with artists Hyperbubble and Kraftwerk legend Wolfgang Flur have more than cemented this Dubliner's place in techno history. And, no, he doesn't appear to be done by a long shot. Keep your eyes and ears peeled for what else this multi-talented individual may come up with.
---
Crevice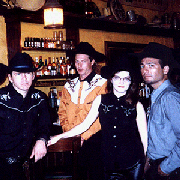 The original monsters of ambience, Crevice has taken head music to distant new places. Since Crevice began creating its bizarre cut-and-paste soundscapes in the early 90s, numerous members have joined in on the experimentation. Bryan Stanchak, Jeff DeCuir, Stephen Reyna, James Sidlo, Phillip Luna, Jessica DeCuir, Robert Jimenez, Greg Nelson, James Cobb, Steven Garcia, Boxcar Sanford, Rena Jones, Terry Stanton, Wayne Thomas, Gavin DeCuir, Mark Semmes and Joe Wallace have all participated. Some members have gone and some have stayed but all have offered unique contributions to the Crevice sound. Synthesizer arpeggios collide with vocal samples, only to be washed away by waves of lap steel guitar … or maybe strings. Whatever instruments are used, the beautiful and sometimes frightening Crevice signature sound is always present. Crevice has performed at numerous locales including The Blue Star Art Space and Art Pace in San Antonio, Texas and has collaborated with like-minded artists/composers ST from Hamburg and Christian Marclay from New York.
---
Eddy Current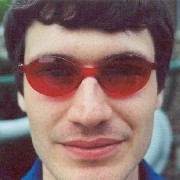 Eddy Current is the musical and electrical outlet of Mission Giant's toy expert, Gavin DeCuir. Brought about by the culture shock of moving from small town Texas to the massive metropolis of Chicago, the offerings on "The New Skyline" and "Cold Iron World" are reflections of life in a big city. Whether claustrophobic and chronic, or sprawling and majestic, Eddy Current's sounds are always driving. Holed up in his flat during the unforgiving northern winter, Eddy composed numerous short pieces on whatever instruments were available. No frills here. His recordings are lo-fi and immediate, filling the tunes with a sense of rough urgency. Eddy Current has also contributed his vocal talents to Pink Filth on their album "17 Bubblegum Smashes". He is now living back in North Texas and has dropped the moniker.

---
Goop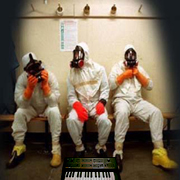 Goop heralded the true dawn of the New Wave of the New Wave back in 1999. They saw the light at the end of the millennium through their darkly-tinted wraparound shades and it was good. Members Billy Lazer, Mick Quark, and Ray D. Asian make no bones about aping DEVO, Soft Cell, The Cure, Polyrock, and many of their other synthesizer-spanking heroes. Goop takes the choice years of 1977 through 1982 in all of their sick, slick glory, wraps them all up, and throws them right into the listeners' ears. Eddy Current has been witnessed pogoing in the studio with the band and has contributed his larynx and his ten digits to the Goop phenomenon. Goop: "New Wave for the Goop Age".
---
Gracie DuVin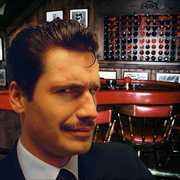 Originally from Paris, France, and recently transplanted to Texas, Gracie DuVin is the very definition of class. Gracie loves the lite hits of 1970's and sings them with style. Well-groomed and even better dressed, he delivers the vocal goods. For his debut album, Imposters, DuVin teamed up with San Antonio popmeisters Hyperbubble to record a carefully chosen selection of AM top 40 standards and, of course, he gives them his "special treatment" which always results in a certain je ne sais quoi. , Gracie has more recenlty commissioned Hyperbubble to provide the music on Sandy for the Filthy Little Angels release Down to Grease on Holiday and on Bad Blood for the Fellowshipwreck release Wreckcollection. When not crooning, Monsieur DuVin can be found lounging at the piano bar, feeding the goldfish at his condo, or playing badminton with his lady friends. When your entire life is an anagram, they call you Gracie DuVin.
---
Hyperbubble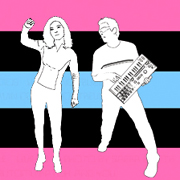 Purveyors of perfect pop, Hyperbubble have the looks, the moves, and the sound. Wherever they go, they bring it . . . and pop lovers dance. Almost fully hidden behind a triple-tier stack of synthesizers and drum machines that power the groove, Jeff turns the knobs like no other, only surfacing for the random karate kick or to strike a pose. His glitterglamorous counrterpart, Jess, lets her seductive vocals drift over the proceedings like an angel from the future. Catchy call-and-response singing from the duo will have you singing along. Their music combines the best of Eurodisco, New Wave, and Electronica. Comparisons to Blondie, Berlin, and Donna Summer/Giorgio Moroder are perfectly in order. Keep an eye on this couple because they are going places.
---
Life Partner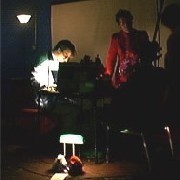 In the world of music today, Life Partner has filled a void no one knew existed. Songs based on loops of popular tunes are liberally sprinkled with daft noise from miniature synthesizers and homemade tone-generators. Two jacked-up Furbies, Mel and Shiloh, add vocals to the mix. In case any listener could still be sleeping through this, there's a guy who shouts taunts over a megaphone. Songs range in mood from grating to serene and are unlike anything most ears have ever heard. The mastermind behind the project, Texas visual artist Marshall Garth Thompson, builds all of the tone-generator circuits from scratch. He then lovingly places them into the waiting shells of gutted children's toys. His creations can be viewed at Sailormouth. Future plans for Life Partner include performances by the Little Tykes doll, Lil' T, who is currently awaiting an operation in which he will be grafted with the innards of Furby relative 'Herbie'. Mr. Thompson is currently working on an audio project called Gaudio.

---
M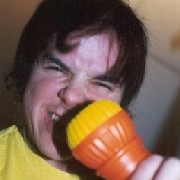 Don't be fooled by the single letter. M is a dynamo of energy and a font of ideas. The walls and floor of his small studio are barely visible through the many keyboards, toys and other noisemakers strewn about. M's style is generally perky and poppy, but it can be menacing too as is evidenced in his 2000 Good/Bad Art Space performance called "Blue Damage". M continues to crank out ditty after ditty with the verve of a five-year-old and the pinache of a master. When not making a musical mess on his own, M performs or has performed with bands including Mission Giant, Prismatic Otter, Life Partner, Faux Fox, Heaven is a Hotel, Young Blades, Telethön, Personal Victories, and George Quartz.

---
Mission Giant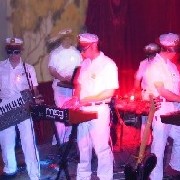 Video games, Circuit-bent toys, synthesizers, and countless other instruments make up Mission Giant's arsenal. When they formed in 1996, Mission Giant began to collect any objects that made sound. Since their early days of hammering away at their devices, Mission Giant's music has evolved from simple drones and loop-based songs into more complex arrangements somewhere between Synth-Pop and Prog. Membership is always in flux, but the nucleus of the group currently consists of 7 members: Shane Culp, Gavin DeCuir, Josh Eager, Aaron Graves, Jermy Johnson, M, and Corbett Sparks. Other Giants have included Blythe Spirit, Keith Claunch, Jeff DeCuir, Mericer DeCuir, Kent Gutschke, Casey Haymes, Jermy Johnson, Local Honey, Greg Nelson, Todd Pertll, James Sidlo, Bryan Stanchak, Marshall Garth Thompson, Joe Wallace, and Christi Weindorf. Mission Giant has performed at The Dallas Museum of Art, The Good/Bad Art Collective in Denton, Texas, The Blue Star Art Space in San Antonio, Texas, and other galleries. They are equally at home in rock venues such as Trees or Gypsy Tea Room.
---
Moonrox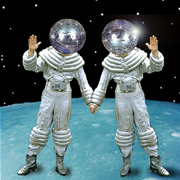 Moonrox are from space. Fortunately, they stop by earth from time to time to deliver dance and ambient compositions to worthy earthlings. Their songs are filled with strange alien passion coated with glimmering lunar dust. Moonrox make humans swoon. Unpredictable behavior results from repeated listens. Moonrox are hi-tech. Talking computers, sizzling ray guns, and throbbing thumpers make up the wavelengths. Moonrox love earth culture. American disco dancing, Euro synth romancing, and Germanic beat enhancing are the reasons they keep returning to deliver their derivative yet innovative musical cargo.
---
Nite Risk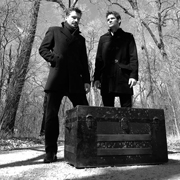 Two pale brunettes from the distant past made their way into the present traversing opposing lines on the tattered world map. One hailed from the piney East, the other from the concrete-clad West. Their paths merged and their voices became one in the morbid heart of Tornado Alley. As a single entity, they now call forth a dangerous black, white, and silver sound as futuristic as it is arcane. On occasions when they have chosen to appear in public, Nite Risk have performed (at times, with a third, even more mysterious stranger from the smog-ridden Gulf Coast) at such dubious venues as Club Dada, The Crown and Harp, and Double Wide. Having exhausted themselves from too much daylight activity, the duo are now on indefinite hiatus.
---
Pantheon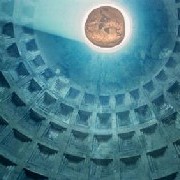 Fueled by an endless supply of Chips Ahoy and Dr. Pepper, Pantheon churns out bizarre hymnals on four different models of children's chord organs. Two members from Crevice and two members from Mission Giant comprise this supergroup. In the spirit of anonymity, members have adopted the surname "Pantheon" and use their middle names instead of first names. Hence, Allen Pantheon, Paul Pantheon, Micah Pantheon, and Morgan Pantheon manifested themselves as air organ playing gods among men. Their off-kilter drones and dirges will challenge any listener. Ever secretive, Pantheon has never performed live.

---
Prismatic Otter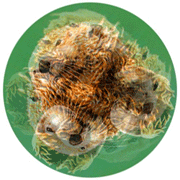 Artrockers from space. Spacerockers from art school. Prismatic Otter first appeared out of nowhere in the Lightwell Gallery of The University of North Texas. Unannounced and without permission, the three otters hauled in their drum kit, bass guitar, and a single synthesizer. They plugged in, placed cardboard boxes on their heads, and made it through a few songs before the Dean of the School of Visual Arts paid a personal visit to shut them down. Prismatic Otter played only two shows after that (one of them at former spacerock haven, The Argo). Drummer, Casey Haymes, then moved to California to begin a career in screenwriting. The two remaining members, Gavin DeCuir and M, went on to form Mission Giant. Before they disbanded, however, Prismatic Otter recorded "Boo Boo Tannenbaum" for the Acid Ranch 2000 compilation released by Uncle Buzz Records. They also recorded a handful of demos available here on Fellowshipwreck.

---
The Solar Panel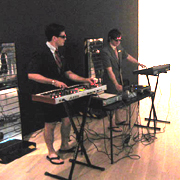 Complex mathematical operations were performed on Mission Giant in 2003 and The Solar Panel was the resulting quotient. Dressed for success whether indoors or out, they can perform only when backed by the two man-sized panels that power their synthesizers. The Solar Panel makes hybrid electro-funk for all ages, creeds, and colors … but they are undeniably crackers of the thirty-something variety. The panel has made several important decisions since their organization, one of which was playing live at the Dallas Museum of Art. The Solar Panel has recently elected to contribute to The International Music Rehabilitation Network, a Texas-based endeavor promoting quality remixes worldwide. Until a cleaner source of energy comes along, the band has their work cut out for them.

---
Swiss Army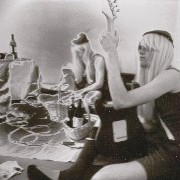 A cloud of mystery surrounds these three beautiful blonds. Some say they are from Switzerland. Others say they are from Sweden. Still others say they are from a town called Switzerland, Texas. But everyone who witnessed their 2001 performance at The Good/Bad Art Collective in Denton, Texas agrees on one thing: they are truly way-out Nords who know how to picnic. Incredibly self-sufficient, members Ischy, Juergen and Orsola transport their musical instruments in the very loaves of bread they eat. Wine, cheese and effects pedals are neatly stashed into their hand-made picnic baskets, and their Thermos doubles as a microphone. In their only published interview, Ischy said he likes to pet cows. Juergen confessed to watching the Cliff Hangers game on The Price is Right whenever he has access to television. Singer Orsola would only say "l'agglomération fait preuve d'un grand dynamisme". Last seen at the foothills of the Alps, their current whereabouts are unknown.

---
Young Blades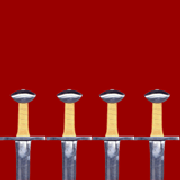 Medieval when Medieval wasn't cool. Members Donovan Dagger, Hieronymus Knife, Lance Halberd Von Rapier, Sebastian Sabre, and Stephan Stiletto met during a falconry exhibition at Scarborough Faire. The five found they shared a common interest in music that was outside the limitations of the troubadour style. Thus, they went on to create a sound that combined ear-piercing howls, sharp-edged synthesizers, and funk bass into a mixture best described as "future cauldron". Tragedy struck before any studio recordings were ever made. Member Sebastian Sabre was trampled by his opponent's horse as he competed in a local jousting tourney. The remaining four members rehearsed for a short while but were too brokenhearted to carry on. Young Blades recordings that remain are from these rehearsals. Their union was as fleeting as the flash of steel into the belly of a tormenting beast that is vanquished … forever! Singer Donovan Dagger and synth-wielder Lance Halberd Von Rapier later formed Faux Fox, a band well known for its serious electro-goth mockery. They now perform as and with, respectively, the ever-intriguing George Quartz.